Kaite 2S 2022 – Ultra-White 13.3 Note Taking Slate
Regular price
$129.99
$129.99
Unit price
per
Tax included.
Shipping
calculated at checkout.
This product is equipped with a new dedicated pen that pursues fine writing

Features: Zero consumables so you can use it over and over again. Adopts newly developed high contrast sheets. Kaite II S (Kite 2S) magnetic memo pad that writes like paper

[Standards] A4 plain [External dimensions] H 11.7 x W 8.3 x D 0.1 inches (297 x 211 x 3 mm); Set contents: Main unit, fine pen (pen cap), dedicated eraser (1 each)

Writing Surface: Magnetic Sheet (Solid), Pen Type: New Dedicated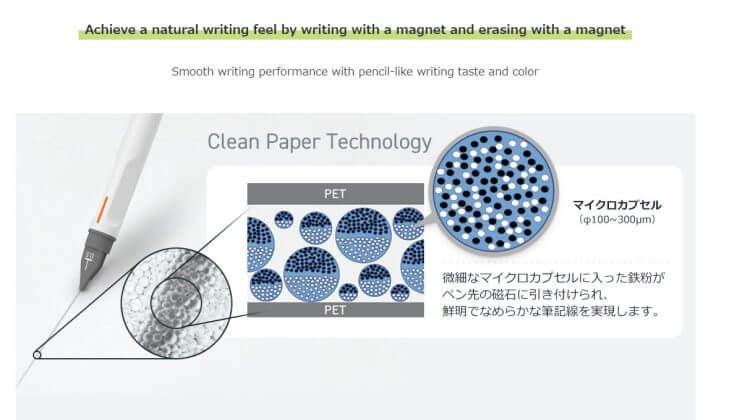 Writes like writing with a pencil on paper.
Adopts newly developed high contrast sheets.
Magnetic Memo Pad "Clean note Kaite II S(Kaite 2S)
Battey Free!
All-new eraser
All-new Pen
This product is equipped with a new dedicated pen that pursues fine writing.
The orientation of the pen is improved for easier viewing.
[Can be used in a variety of situations]
For home work and businesses: For ideas, meetings, and writing out tasks.
Written discussion: For explanation on receptions and windows.
Household: For communication with messages and scheduled actions.
Education and Learning: For children's study, cram or lessons.
Hospital and Kitchen: It does not leave stains or erasers, so it is easy to use in places with sensitive hygiene.
[Features]
1. Zero eraser, zero consumables
No ink is used, so there is no erasing mark, clean and clean.
Environmentally friendly and economical as it does not require consumables such as papers, markers, and batteries.
2. The goal is to use paper like a
The newly developed magnetic sheet provides smooth and detailed writing lines for a natural writing experience.
Light gray magnetic sheet that is bright and gentle on the eyes.
・The main unit is only 0.1 inch (3 mm) thin, and the integrated storage design makes it easy to carry around.
3. Dedicated pen for maximum writing performance
Improved shape and width of the nib for improved writing and writing ability.
(Fine Point 0.02 inches (0.5 mm)
4. 2 kinds of erasers to erase the parts you want to erase freely.
A dedicated eraser with a wide range of erasers and a detailed eraser that can be used to suit your needs.
Unique technology allows you to adjust it from the front, so you can sketch and write with a natural feel.
5. Store in a dedicated app for easy viewing
Just write on Kaite and shoot with your smartphone.
The free dedicated app detects the outline of the notebook and automatically corrects the angled images for easy viewing
---
Share this Product
---